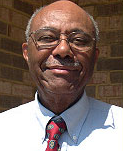 Belstar's Founder, Senior Vice President & Board Director, Daniel Joseph Belcher, Sr. passed away Sunday, December 30, 2012 in Martinsville.
He was born November 1, 1927 in Plymouth, NC to the late William Joseph Belcher and Ruth McNair Belcher. To this union were born 5 daughters; Odessa Belcher, Eunice Belcher, Joyce Matthews, Dorothy Belcher (deceased), Evelyn Neptune(deceased), Para Pender (deceased) and 3 sons; Daniel Joseph Belcher, Sr., Nathaniel Belcher (deceased), and Robert Belcher (deceased). His first marriage was to Emma F. Belcher (deceased). To this union were born 6 children; Daniel Joseph Belcher, Jr., Osmond Foskey Belcher, Keith Eric Belcher, Roderick Dimitri Belcher, Nathaniel Quincy Belcher, Emma Ellen Belcher and five grandchildren. He had a second marriage to Ferretta C. Belcher which brough into the marriage two step-children, John Henry Crummie, Jr., Arnold Vinci Crummie (deceased), and Valerie Crummie Johnson, and three step-grandchildren.
Daniel Joseph Belcher, Sr., was also known as Joe or Dan by friends and family. Early in life, Dan showed ability to work with electricity. As a young man, he wired many of the homes in his hometown. Wanting to better himself, Dan entered the United States Army as a specialist. After completing his tour he used the veteran's benefits to go to college and graduated with a Bachelor of Science degree in electrical engineering from North Carolina A&T. Next, he entered into the federal government at Frankfurd Arsonal base in Philadelphia, PA for four years.
Next, Dan worked in the private sector at Westinghouse as an engineer, followed by a challenging "turnkey" project with Corning Glass. Continuing with his career path growth, Dan acquired skills and abilities to work in the nuclear industry. He continued to work in the nuclear industry for many years before starting his own construction company with his second-oldest son, Ozzie. They started out as general contractors under the name of "Blue Ridge Construction" in 1985 and in 1995, they changed their company model to project management, now known as BELSTAR, INC.
In addition to his professional career, Dan served on the board of Johnson Health Center and many committees. For many years Dan served and worked in many capacities at Keystone Baptist Church, including roles as Deacon, Sunday School Teacher, in "The Seniors Group" and others … Fayette Street Christian Church later became his home church after remarriage, where he participated in Sunday School and Christian Mens' Fellowship and other activities …
Political awareness was Dan's forte! He also embraced volunteering and helping others.
After Dan's first wife passed away, he found love again and married Ferretta Crummie. It was a bond of love, joy, travel, and appreciation for life in their later years together.
A funeral service was conducted at 11:00 a.m., Saturday, January 5, 2013 at Whitten Timberlake Chapel with Dr. J. Monty Fox and the Rev. Alfred Booker, Sr. officiating. Interment will follow in Fort Hill Memorial Park with military honors by the Virginia Army National Guard.
In lieu of flowers, the family request that memorial contributions be made to either:
The Lynchburg Daily Bread, 721 Clay St., Lynchburg, VA 24504,
Keystone Baptist Church, 212 Fleetwood Dr., Lynchburg, VA 24501,
Fayette Street Christian Church, P.O. Box 3107, Martinsville, VA 24115
Johnson Health Center, 320 Federal St., Lynchburg, VA 24504.
Former Company Principals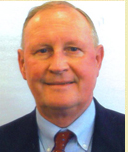 James G. Browder, Jr., PE
BROWDER, James G. Jr. "Jamie," retired Major General of the 80th Division (TNG), passed away suddenly on October 2, 2013. Jamie received his Bachelor of Science in civil engineering in 1966 from VMI and continued to support VMI as an active alumnus.
In 1996, as a professional engineer, he became the chief engineer of the Virginia Department of Transportation. He had 34 years of dedicated service before retiring. Although he retired from the military and VDOT, he continued to work as a principal and member of the Board of Directors for Belstar, Inc., an engineering firm headquartered in Fairfax, Va.
After retirement, Jamie and Doma, his wife of 47 years, enjoyed spending their free time with their seven grandchildren and traveling the world with close friends. Jamie also enjoyed hunting and spending time with the Whitetail Rivers Hunt Club where he was recently elected president. His parents, James G. Browder and Elsie Browder Lassiter, preceded him in death. Jamie is survived by wife, Doma; three children, Danielle McElroy (Russell), Anita Bailie (Brian) and Jim Browder (Erica); and grandchildren, Hunter, Cassidy, Jamie-Marie, Maisie, Wesley, Cole and Gavin. Jamie is also survived by brother, Andy; and sister, Cheryl Pulley; as well as nieces, Shana and Lee-Ann; nephew, Douglas; and many great-nieces and great-nephews.
Visitation was held at Bliley's-Central on Saturday, October 5, 2013, from 4 to 8 p.m. Services were held at Shady Grove United Methodist Church on Monday, October 7, 2013, along with Military interment at Crestview Memorial Park.
The family requests, in lieu of flowers, donations can be made to either of the following organizations:
The Clinic for Special Children, 535 Bunker Hill Rd., P.O. Box 128, Strasburg, Penn. 17579
Virginia Military Institute KEYDET Club.